High quality brand identity
Client
Province of Noord-Holland
OV-bureau Randstad
Services
Branding
Product design
Graphic design
R-net is the high-quality public transport network for the Randstad. Reliable, recognizable and coherent. The network connects various public transport lines with other modes of transport such as bicycles and cars by using hubs. R-net stands out for its high-quality level, higher than other city and regional transport. It is faster and offers direct connections with large transport flows and smooth transfer options with smaller transport flows.
FromAtoB has developed a high-quality brand identity that is visible throughout the 'journey of the commuter'. From information at home and on the road, from dynamic travel information to the station's spatial planning, platform furniture and vehicle design. We prefer not to speak of branding, but rather of a product formula. Because we have designed products, such as bus stops, platform furniture and DRIS panels as well.
The complete product brand book includes core values, guidelines and definitions of 2D elements and 3D products. The first edition appeared in 2011, the second in 2013.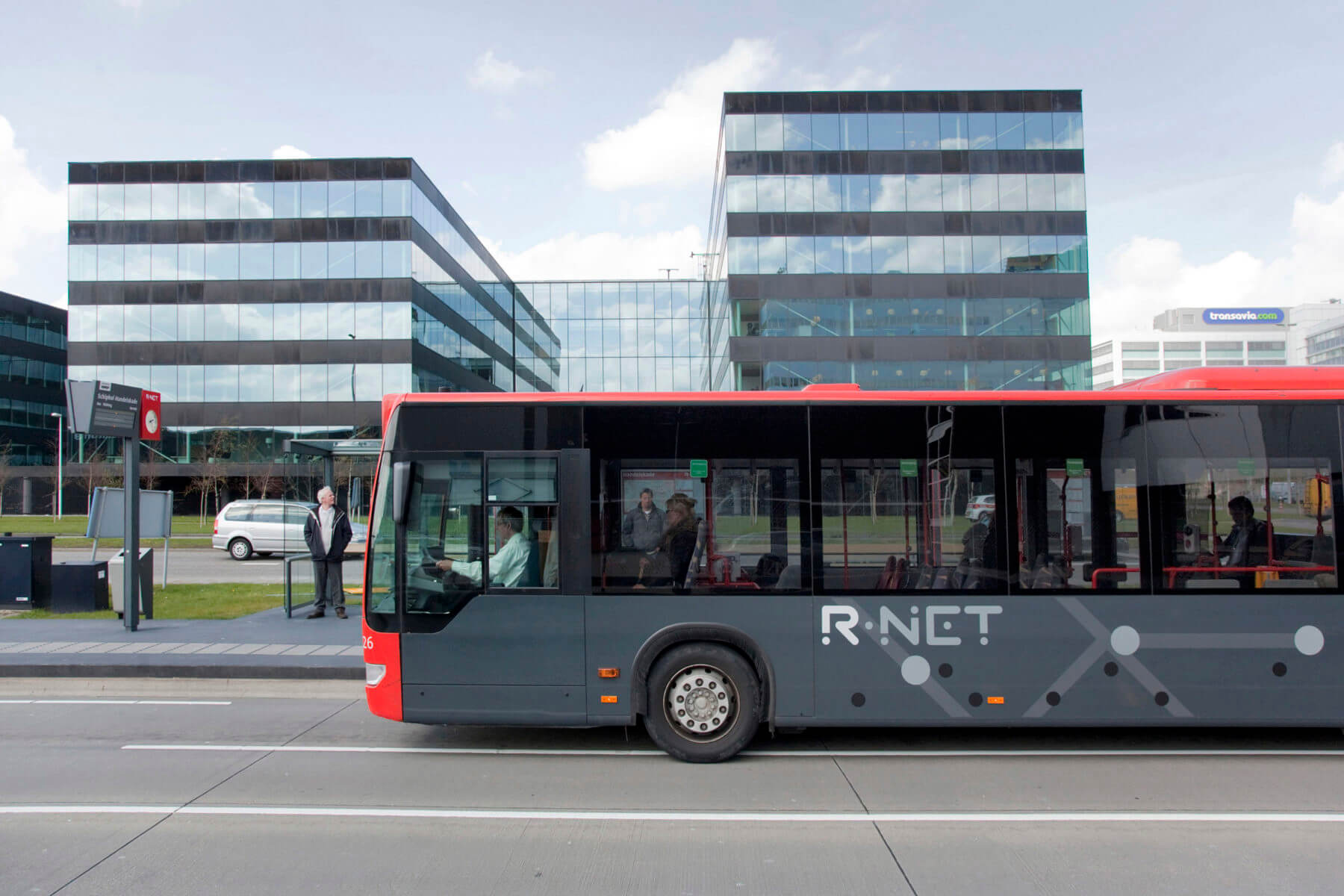 The logo consists of dots, the dots can be seen as different places, like work or home. The lines between these circles stands for the connecting lines of the network. In addition to the logo, we have designed illustrative elements that can be applied to objects and presswork.
The dot pattern is based on the R-net logo. the pattern consists of dots that form the letters of the logo.
The line network pattern is a simplified representation of the network map. With horizontal, vertical and diagonal lines for the connections and dots as junctions. The pattern is used in the stickers on the exterior of the vehicles, glass screens in the interior of the vehicles and presswork.